About Mize, Mississippi
Mize is a small town in Smith County, Mississippi. The population in the 2010 census report was 340. Mize is a small town with big ambitions. Mize is also home of The Mississippi Watermelon Festival.
Notable People From Mize
Julieanna Jackson Miss Mississippi Teen USA 2018.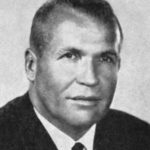 Prentiss Lafayette Walker (August 23, 1917 – June 5, 1998) was an American Farmer, businessman, and politician from Mississippi. In 1964, he became the first Republican of the 20th century to be elected to the United States House of Representatives from his home state.
Eugene Sims is a notable athlete from Mize. He graduated Mize High School in 2005. He became a football defensive end. He was selected by the Los Angeles Rams in the sixth round of the 2010 NFL Draft. Eugene played for the Rams from 2010-2016. He retired from football in March 2017.
Woody Evans is an American librarian and author of short stories and nonfiction works, who is known for critical commentary on technology, techno-culture, and trans-humanism.